With edoclink Enterprise your work processes are automated and your documents are entirely digital and integrated. It's a seamless flow of information, so you can use it, share it and access it as you need it, when you need it and wherever you need it.
A seamless information flow.
Life is unpredictable. And we need solutions that are flexible enough to deal with constant change. Solutions to make our daily lives simpler and help us optimize our time and work. To better manage our meetings and above all the way we use and share our information.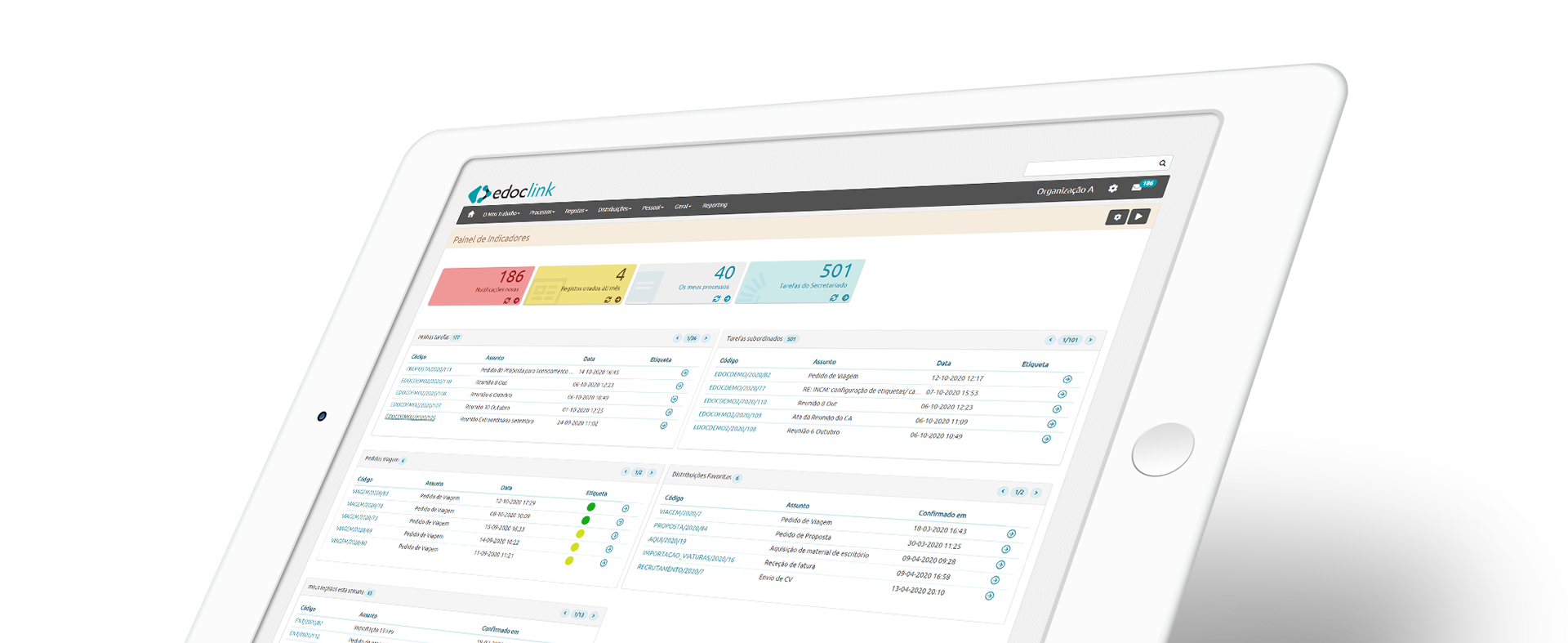 COLLABORATIVE WORK
OUT-OF-THE-BOX INTEGRATION WITH MICROSOFT TEAMS,
MICROSOFT TEAMS GROUP GOVERNANCE,
MEETING MANAGEMENT AND CONTROL, AND FOLLOW-UP OF DECISIONS TAKEN,
GENERATION OF INDICATORS.
"END-TO-END" INFORMATION FLOWS, WITH NO INTERRUPTION BETWEEN DEPARTMENTS AND PLATFORMS
COMPLIANCE AND CONTROL OF CRITICAL PROCESSES WITHIN ORGANIZATIONS,
CERTIFIED OUT-OF-THE-BOX INTEGRATION WITH SAP ERP.
FULLY CONFIGURABLE BY USERS
"NO CODE" PHILOSOPHY – NO NEED TO USE I.T.,
ADAPTATION TO THIS EASY TOOL WITH VERY SHORT LEARNING TIMES,
AGILE IMPLEMENTATION METHODOLOGY,
GDPR AND ISO 27001 SUPPORT.
PROCESSES MADE SIMPLE
ABILITY TO START AD-HOC AND EVOLVE TO CONFIGURE COMPLEX WORKFLOWS,
QUICK RESULTS,
ADAPTABLE TO THE MATURITY LEVEL OF THE PROCESSES OF EACH DEPARTMENT OR ORGANIZATION,
GOVERNANCE AND CONTINUOUS IMPROVEMENT OF IMPLEMENTED PROCESSES
The new edoclink Enterprise makes it easy for those who implement it. For those who manage. And for those who have to work in constant change between the on-site and the remote.
What is edoclink Enterprise
An "all in one" solution that allows all your information to flow digitally and your processes to be fully automated,

It facilitates collaborative work, the systematization of operations and the entire digital management of the information life cycle,

Is supported on an agile implementation methodology, that adapts to the needs of your organization and provides productivity and performance indicators throughout the organization,

Boosts collaborative work,

Fully integrates with your other platforms, like SAP ERP, Microsoft Teams, among others,

Facilitates users' day-to-day activities, from the moment the information is received, to its treatment and digital archive.
"We have control of all our work in a single tool, track all shared data, with up-to-date records and versions, without loss of information or concerns like "who has that email?", "what folder is that document in?" or "what stage is that process in?"
"We can monitor the decisions taken at meetings – remote, face-to-face or mixed – control their status, documents and who is doing what. And our information is always  updated and available."
An effortless solution to implement and use
With fluid and straightforward navigation,

Short learning time,

Use of natural language,

Configuration by the users, without the need for technical support,

Control of work and deadlines to be met in a single tool, tracking shared information, keeping all records updated, without loss of data.
A trust built daily
Evolution of a product with +15 years and numerous successful implementations,

Total information traceability,

GDPR compliant,

Information shared only with specifically authorized interlocutors.
A highly configurable solution, adaptable to the users' reality
Organized, customizable tool that improves working times,

The link between the multiple platforms used, to have the entire information flow integrated (end-to-end),

Ability to configure workflows according to the degree of process maturity: from ad hoc to high degrees of complexity,

A product team by your side, on a day-to-day basis, to meet the specific needs of your business.
Is the future of work remote?
We may not have all the answers,but we have

edoclink Enterprise

.
With

edoclink Enterprise

, the treatment of your information is entirely digital, automated and integrated. Only then can you respond to new meeting models, as well as use, consult and share the documents you need to work, anytime, anywhere. And be prepared for the future, whatever it may be.