Linkcom Managed Service Portfolio includes optimized solutions for Setup and Migration to Maintain & Managed with specialized security supported by a team of highly skilled experts.
Linkcom Managed Services (LMS) delivers the insights, experience, and expertise you need through comprehensive solutions that raise the bar on your current operations, enable your transformation journey, and ensure that you get the most value and performance of your infrastructure.
LMS enables:
Reduced costs and risk related to infrastructure management;
Increased optimization and performance;
Improved return on investment and time to value;
Consumption pricing (Op-Ex instead of Cap-Ex).
Add-On Services:
Optimize & Migration services (o365, azure, aws, google..);
Backup Servers and workstations;
Disaster recovery & Data protection ;
Management and support;
Monitoring and alarms;
IT Service packages for infrastructure maintenance.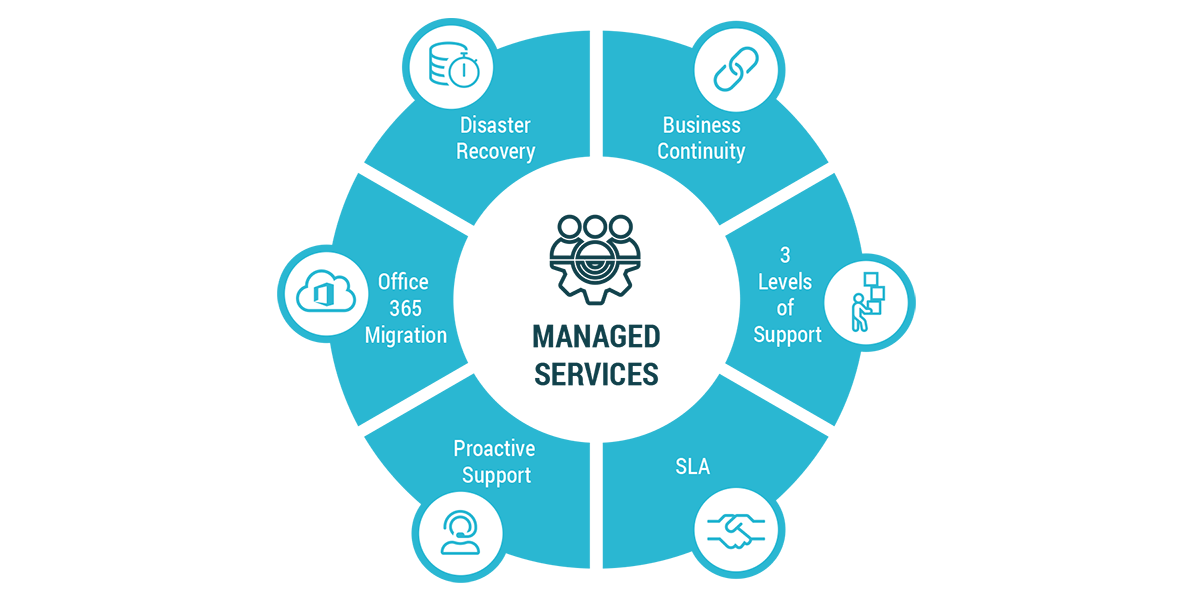 The concern with the security of information and data exists in any location and device, that is why teleworking regimes are even more difficult to manage and maintain at the level of security and reliability required by organizations.
Link expands its Managed Services offer and makes available its technical team and technology from its partners to help organizations overcome the security challenges imposed by the relocation of their equipment and employees:
Visibility: Being absent in Telework does not mean being isolated, so the security management of the various devices must be carried out with the greatest possible visibility.
Real-time protection: Through the use of agents and active monitoring technologies, we enhance the protection of all your computer assets.
Reporting: Based on data from your distributed and remote environment, we advise and act in accordance with the organization's guidelines.
Update management: Automatic maintenance of all devices with centralized policies appropriate to each organization.
With the massive adoption of telecommuting, IT teams need specific reinforcement in the activity in view of the increase in requests.
Link complements its IT team with the reinforcement of specialized profiles in the area of ​​Managed Services in different competencies in order to complement the support managed to displaced jobs.
With this offer we provide the following profiles:
Sys Engineer Service Desk: complement to the existing team user support in Teams technology.
Sys Engineer Incident Operation: support of all systems in Microsoft environments with response to the responsible.
Senior Sys Engineer Network & Security Operation: Integration in a team of changes and access updates, configurations in the infrastructure and basic security component.
Senior Sys Engineer Change Operation: Integration of changes team for system changes and support for application changes in the infrastructure component and base application systems.
With the massive adoption of telecommuting, employees have relocated their jobs but the need for support and assistance remains.
Link extends its Managed Services offer to complement managed support for displaced jobs. With this offer we provide:
Audit: Complete visibility of managed devices.
Real-time monitoring: Monitoring of all systems with intelligent alerts, automatic response and automatic resolution.
Reports: Based on data from your environment, we help you to make informed decisions that are in line with the reality of each company.
Update and patching management: Automatic maintenance of all devices with flexible policies and integrated with the update of OS patches and applications.
Remote management and control: Instant support for any managed device with one click.
The adoption of telework allows availability and isolation to prevent the spread of the current reality, however, it increases the complexity in terms of data protection and safeguarding the digital assets of companies.
The separation and isolation of employees also puts data retained in jobs at risk, so Link has extended its offer of Datacenter backup services to allow isolated stations, with only Internet access, to have a backup and backup policy. safeguarding the data. With this offer we provide:
Automation: With the installation of a single agent, you can protect your workstation data.
Freedom: Scheduling pre-made or tailored to the client. Replacement capacity autonomously without dependence on an external entity. Control of resources used.
Security: Secure point-to-point communication and encrypted repository.

The adoption of teleworking demonstrated all the potential and reliability of the productivity and collaboration tools provided by Microsoft.
Besides the use of eMail, do you know that you can, in this contingency phase, take even more advantage of the available tools?
Teams: With the need for meetings and remote communication this tool is an asset. Ask us how to get the most out of it Onedrive: Possibility to have your local files synchronized with this Online area.
Office 365 Groups: Logically arrange your resources and employees, define accesses and reorganize work teams Sharepoint: Sites, Intranet, Wikis, Workflows and much more at your fingertips.
Forms: Create and share forms for your team, customers and partners in a quick, simple and accessible way.