In a world in a need for decarbonization, Electric Vehicles (EV) are growing fast and every eMSP (E-Mobility Service Providers) and CPO (Charging-point operators)  players needs to integrate with its competitors to extend its reach. EV users need to have a broad set of EV public chargers and this implies the integration with other eMSP to avoid being locked to a single supplier.
eMSP and EV users need control and visibility on eMobility operations and costs in real time.
CPOs also need to control and manage its own charging stations irrespective of the supplier, to deliver the best service to Electric Vehicles Drivers.
Allowing roaming charging and a better experience for Electric Vehicles (EV) drivers.
Monitor, manage and operate your multivendor charging point stations.
As a Energy Service Provider or a Provider of Charging Stations you will benefit from allowing all the potential Electric Vehicles (EV) drivers to roam across all the charging stations network.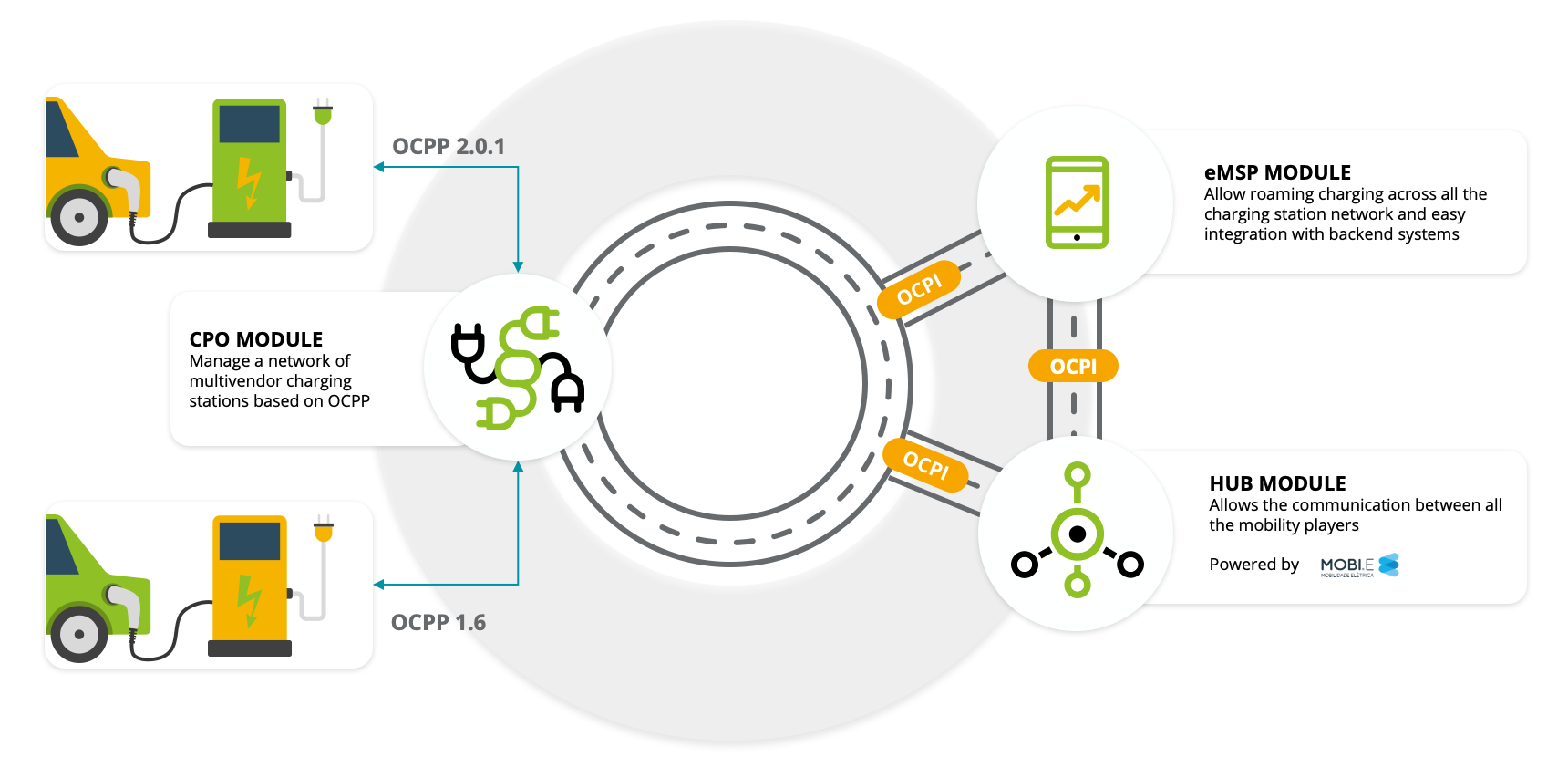 EMMA offers a single management platform and ensures easy integration with backend sysyems (ex: CRM, ERP) via APIs. EMMA is designed for all eMSPs and CPOs, typically associated with existing utilities and electricity retailers or new challengers.
Electric Mobility Management Application
Easy to use, fast to deliver.
A solution that allows you to operate in different electric mobility markets
Single platform to manage your eMobility Business
Web solution.
Real-time information for your charging station network.
Real-time information for your customer Electric Vehicles (EV) charging network usage.
Manage and control your charging stations directly on the platform.
Analytics and Dashboards.
Compliant with different protocols
OCPI implementation
OCPP Implementation
Easy to integrate with Portuguese HUB (Mobi.e)
Easy to setup new roaming partners in Europe (already integrated with Spanish market
Technology platform that easily adapts to the market and your business needs
Allows scalability based on charging network growth and number of customers
Based on open-source technologies. no vendor lock-in
Easily to scale horizontally and vertically your platform
Prepared to integrate with multi charging stations manufacturers
An agile and robust architecture that
integrates with your existing business model
APIs for integration with in-house billing systems
APIs for integration with Mobile APPS and 3rd party applications
Low Opex costs

Professional services can be added to support you 24×7
Making real time communication between EMSP (E-Mobility Service Providers), HUBS and CPO (Charging-point operators) standardized.
EMMA is a ready-to-go solution proven in different markets, with a fast return on investment.

Easy to use, fast to deliver.
Easy to use, fast to deliver. This is the ideal solution to quickly enter the electric mobility market, without implementation efforts and in-house maintenance.
The optimization of processes in the area of ​​Electric Mobility is only possible through tools that make it possible to effectively manage information and the respective flow between the different players – EGME, CPO, eMSP and UVE. Optimizing these processes allows PRIO to control the other resources, both material and human, to continue to grow and maintain the level of response and flexibility that our customers are used to. A platform like EMMA allows us to strengthen this vector.
Implementing the EMMA platform allows PRIO to work with the market's standard protocol and position itself differently from the rest of the players. It also made it possible to have all the information regarding centralized electric mobility.
Link demonstrated a perfect knowledge of the Portuguese Electric Mobility model.
It also demonstrated that it has capable professionals and implemented processes following PRIO's needs, namely the involvement of the various teams and compliance with the defined deadlines.
Carlos Ferraz
Director of Electric Mobility – Prio