Don't get left behind in this transformation. We simplified your go-to-cloud decision and made it easier for you. It's not a long term commitment. And it's not the decision of a lifetime. See it to believe it.
Cloud-Native Applications
Design and implement Cloud-Native Applications
Leverage Open-Source
Use and Configure PasS Solutions
Application Migration to Cloud
Go to Cloud plans
Migration of On-premises workloads to Cloud
Cloud Governance
Cloud Organization Best-practices
Cloud-shared Services and Artifacts
Distributed Cloud & Resilience
Optimisation of Costs & Resources
Optimization Consultancy
Optimization Implementation
Modern applications combine information from multiple sources in a single page. Javascript front-ends, such as Angular, Vue or JET, based on MVVM (Model View View Model), provide this ability by breaking with the traditional server-side full page generation, and the use of Web Components allow a truly asynchronous front-end generation, providing a much faster and rich user experience.
On the back-end, microservice architectures decouple the applications, allowing multiple technology choices, smaller and more focused teams and less dependencies. But the true power of microservices lies in the ability to scale faster and with less overhead, while increasing the resilience and reliability of applications at the same time. It's a neat trick, which offers a more complex way for developing applications, but with many rewards to reap.
Cloud brings the ability to scale with multiple options, from Kubernetes managed containers, to serverless and functions. When there is no activity, almost no resources are assigned and there is no consumption. As requests come in, multiple instances are created and the infrastructure scales.
The consumption-based subscription model, rather than allocating capacity, changes the whole paradigm in systems creation. Applications can be built using containers for custom development parts, a chat bot (consumption based on actual messages), a few functions (consumption based on execution time), an integration layer (consumption based on transactions) and a process layer for a few approvals (consumption based on process instances). This landscape instantiated with an on-premise traditional approach, would mean that, due to redundancy, several systems would be idle most of the time, taking several weeks/months to provision and install. With Link2Cloud development, this would take minutes, providing the business with the required agility to be disruptive.
This is the power of the Cloud. This is the new architecture for native cloud apps.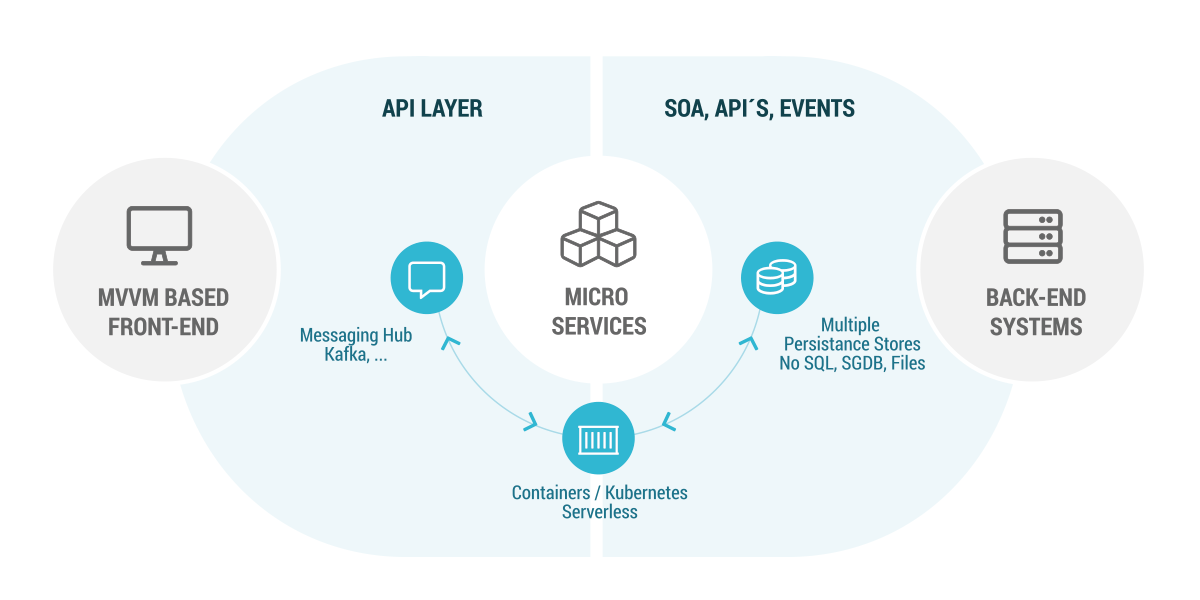 Begin your transformation into an on-demand availability of your resources and a serverless reality. Pay only for what you use, when you use it and lower your running costs. Autoscale up to infinity. And above all in these challenging times: guarantee your business resilience and accelerate the time to market of your innovation.
With clear benefits:
Reduction of operational risks and costs
Professional Services
Our team of professionals is certified in the different technologies they use to implement different projects.
We have a comprehensive team highly specialized in the challenges of our customers
IT Outsourcing
We have a group of experienced professionals in the different business areas (Telcos, Retail, Public Sector, Financial Services) to integrate your development teams

Managed Services
Count on our experience to ensure your business runs smoothly.
Our dedicated teams ensure that your systems are always working as required
Nearshore Services
Our presence in different geographical locations allows us to closely support and work together with all our customers globally.