Integrations can follow multiple different patterns and have different requirements.
API first is a modern approach where developers can agree on a definition, create test mockups, share documentation and then start developing. Infrastructure teams can then define security boundaries and protocols, throttling and business can track consumptions and enter into monetization scenarios.
Mediated and orchestrated services, typically synchronous and stateless, are provided by a service bus. End to end traceability, auditing, and very high performance are typical requirements for this layer.
Long running transaction is provided by process engines that handle persistence, asynchronous services, file processing and more complex business logic.
Messaging using Kafka and similar solutions provide high performance event-based integrations, and act as foundation for micro services choreographies.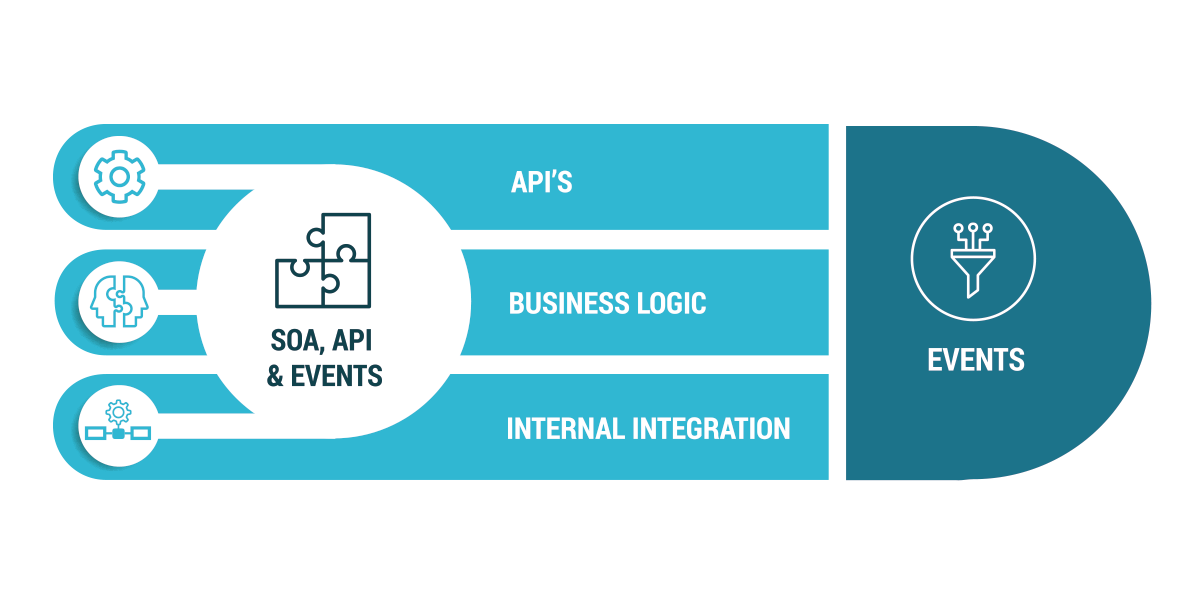 How can Link help your organization?
Specialized in Integration, Virtual Assistants and Cloud Native Architectures.
Integration Kickstart
Implementation of an Integration practice in organizations, incl. development practices and recipes, governance practice embedded with CI/CD and full tech enablement for your organization.


> from 25k and 2 months.
Integration Academy
Training and Enablement Academy, focused on Integration practices and platforms. Award-winning team. Accelerate your teams' enablement and development.
> from 19k and 2 months.
Integration Shift
RPA based migration tool and approach SOA Suite/OSB to OIC, using our migration tool WSO2, RedHat Fuse and others also possible.
> from 30k and 3 months.
Link2Cloud
Innovative Approach to Rearchitecting Applications for the Cloud Cloud Native Enablement Pre-built Cloud Architecture Archetypes, for typical use cases (N-Tier JEE applications, E-commerce, Customer-facing Websites, B2B API-enabled applications,…) All built-in: Security, DevOps, Monitoring, Config management, … Just bring your code!
> from 25k and 3 months
Digital Transformation is accelerating the adoption of more technology by organizations. Although that adoption is helping organizations getting closer to their customers and improve their processes, it's also making the IT Landscape more complex and with more systems that need to be integrated.
Although most recent systems have standard-based APIs, the fact is that a lot of organizationsare just making use of them in a Point-to-Point fashion, and, sometimes, in a hybrid (on-premise <-> cloud) ad-hoc way, making it much more difficult to manage, to control, to visualize and monitor.
Link Consulting helps organizations get and recover that control, in an easy, fast and cost-effective way.
We developed specific integration kickstart packages (per vendor) containing a set of pre-built artifacts and practices, which address the integration practice in an organization in 3 vectors:
Development– Integration templates, development recipes, automated scripts and best-practices to allow integration development in an industrialized way
Governance – Automated Documentation,Planning and Reviews processes,Control panels, Practice Documents, so that everyone knows how to build integrations in a unified and unique way (internal teams, outsourcing teams, …)
Automation – By adopting a DevOps practice, starting with CI/CD pipelines and automated testing. Don't worry if you still haven't got this set up in-house. Link Consulting can provide a DevOps environment setup, ready to use.

Our Integration Kickstarts are deployed together with our team which install, train, and build reference integrations, and we do so together with your own teams, training them, so that you can become fully independent on your integration practice. No Link Consulting lock-in!
In terms of investment, the kickstart packages start at 25.000€ and a 2-month duration.
(Prices not including cloud costs or taxes. Costs and durations depending on the nr. and type of services in scope)
APIs and Integration platforms are the foundation blocks of most Digital Transformation initiatives. As more and more solutions are brought into the organizations' IT Landscapes, integration needs also increase, to build new customer experiences and engagement model.
Although an increasing number of companies go all-in in Digital initiatives, their integration capabilities are being pushed to the limit, as pretty much all projects now require the use of APIs and Integration platforms to deliver what the LoBs need.
Even partners (system integrators and outsourcing) are struggling to provide knowledgeable engineers with the skills and experience needed to satisfy organizations' demands.
Link Consulting developed an Integration Academy, to give organizations' the capabilities they need, using one of the following approached:
Convert organizations' own IT resources to integration developers and architects
Build a team supplied by Link Consulting, with the chance of incorporating those into the organizations' own head count.
All trainings are provided by experts in integration, with a significant amount of certifications and high-profile projects in their curriculum.
APPROACH TO THE INTEGRATION ACADEMY
The main goal is to build integration capacity inside an organization, towards the development industrialization.
The training is divided in areas of knowledge, making it adjustable to the reality of different organizations
We adjust the programs to reflect the internal reality: incorporate the organization's processes and tools.

Our Integration Academy is currently available for the following API/Integration platform vendors:
Oracle

Mulesoft

Kong API

WSO2

 Red Hat Fuse (coming up)
The Academies run for 5-6 weeks, including the developers' certification in your chosen vendor, with prices starting at 19.000€ a trained squad of 5 elements.
Some organizations did a significant amount of investment in building and running integration platforms, to deliver high-quality integration capabilities to projects and initiatives.
But, as with any other technology, integration changed radically in the last 5 years, with some integration platforms becoming a hurdle in delivering projects, or just reaching the end of their lifecycle.
When it's time to think of another integration platform, the thought of remaking all the integrations in this new technology piece is a daunting one, with a significant amount of effort and cost to make it happen. Even if the organization doesn't want to change platforms, sometimes there are simply no upgrade paths for their newer versions, making even an upgrade of the product a highly complex task and leaving organizations exposed to increased security issues.
Link Consulting recognized this problem in a significant number of its customers and developed a migration tool that helps making this task significantly easier, faster and with a very quick ROI.
Our approach is to leverage RPAs and automation tools, with a series of recipes and templates we build, to allow a significant part of the migration/upgrade effort to run in full automated mode.
We do this in an iterative way, following a tried-and-tested process that we used in several organizations, addressing not only the integration artifacts but also the DevOps, Management and Operations pillars.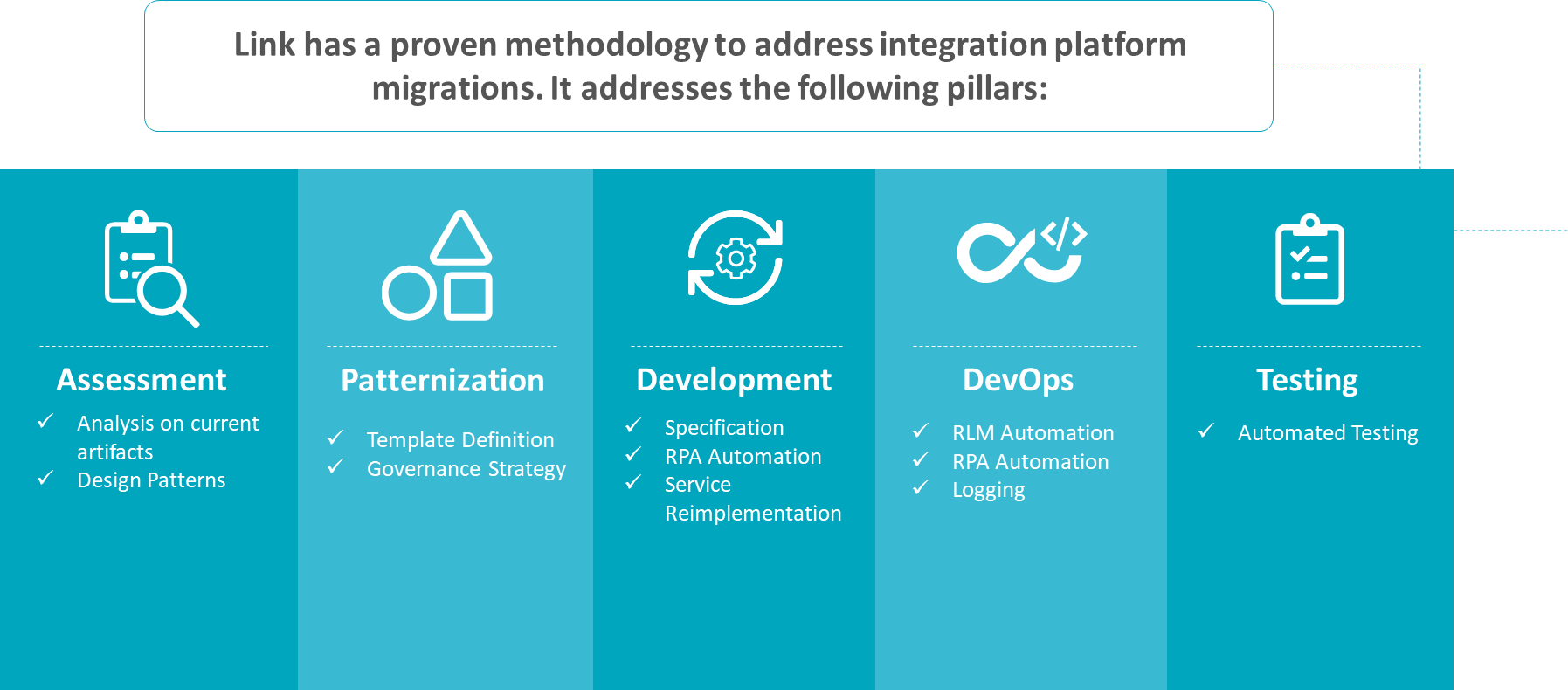 Link Consulting can address the following migration/upgrade paths:
Oracle SOA Suite 11/12 -> 12/14 (14 coming up)
Oracle SOA Suite to Oracle Integration Cloud
Oracle <-> Mulesoft <-> WSO2
Low-code (Oracle, Mulesoft, WSO2) <-> Red Hat Fuse
We have specialized packages (fixed price), depending on the current integration platform status and integrations developed, with prices starting at 30.000€ a 3-month duration.
We made it easier for you: you can experiment riskfreethe benefits of a world-class cloud service.
In less than a week, you can have it up and running while learning with our experts along the way. We did all the hard work for you and will guide you through any doubts you may have. It's fast, easy and riskfree.
Go on and give it a try!
HOW DOES IT WORK
We addressed two dimensions that help organizations thrive in the cloud: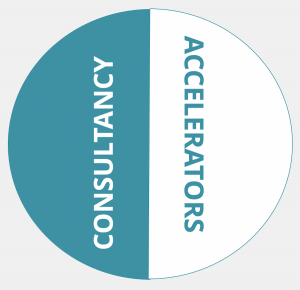 CONSULTANCY
Accelerate the compreehension and adoption of the "cloudmindset"

Introduction, with practical hands-on workshops, of the maincloud-native architecture concepts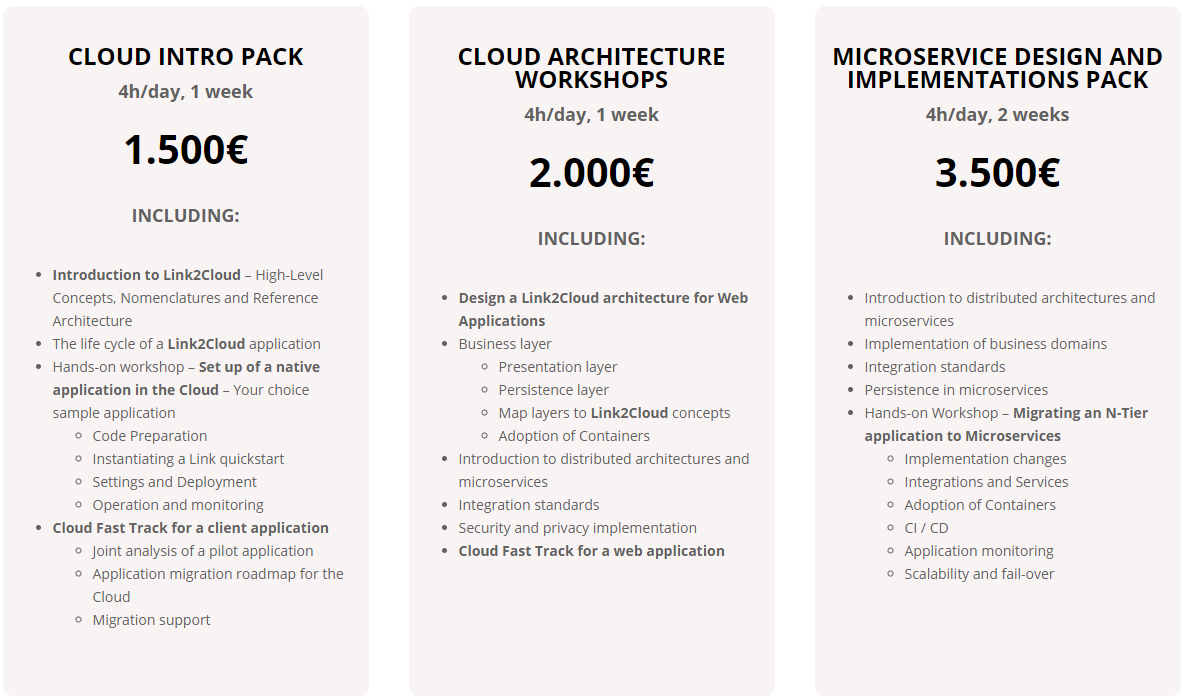 ACCELERATORS
Use/Construction of Cloud-Native Architecture Archetypes and Templates that address specific workloads (N-tier Java Applications, Portals and Channels, E-commerce, …), based on open-source software and standards, leveraging the cloud providers APIs.

We use a two-step approach