The administrative modernization that organizations have adopted is based on dematerializing processes and documents and offering remote service channels.
The ability to submit requests online, wherever it is convenient.
The ability to submit requests online, where it's convenient. The ability to pay and see the status of cases. The ability to manage personal information. The ability to start a request on the web and finish it in person or over the phone.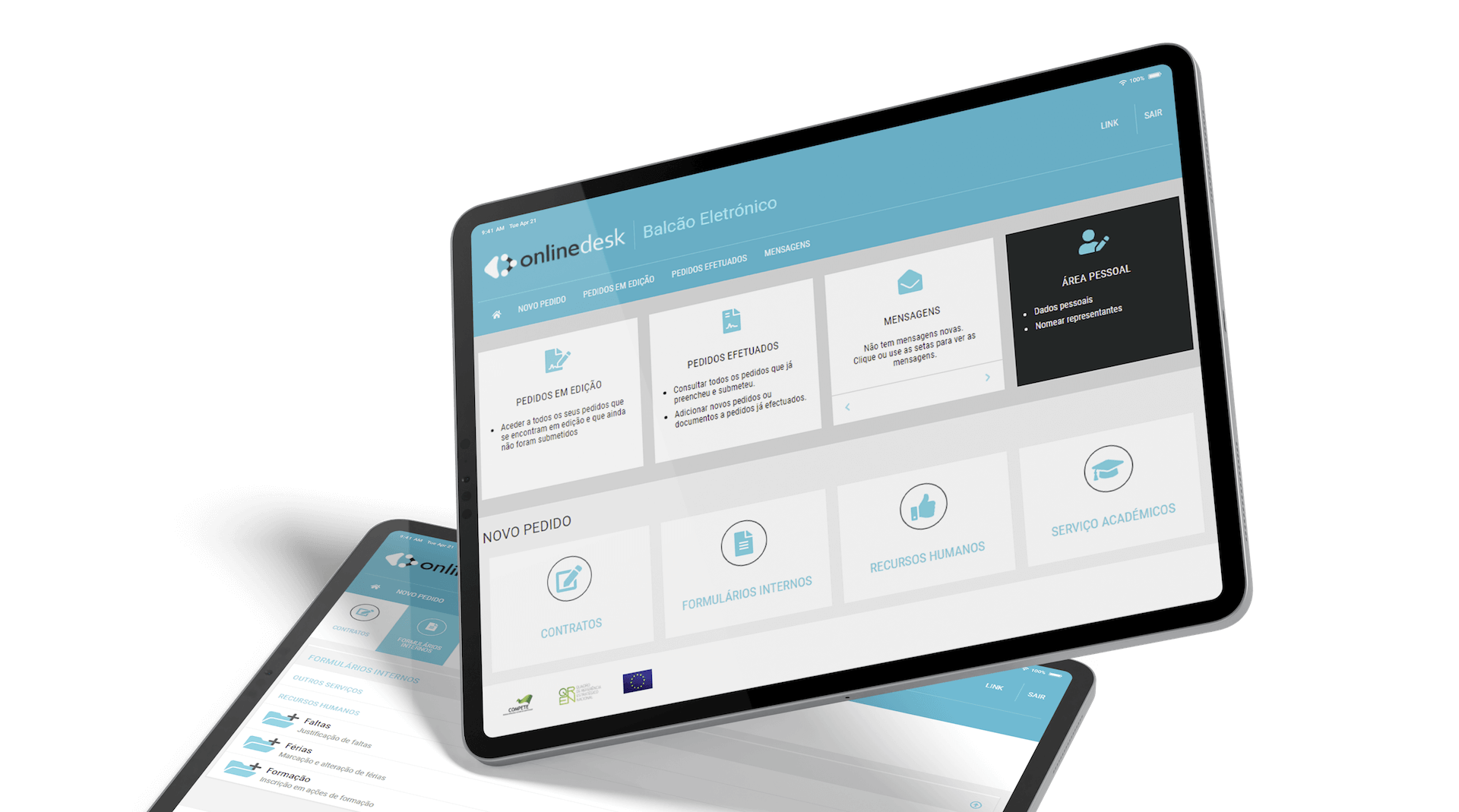 ONLINE AND MOBILE CHANNELS FOR THE NEXT GENERATION
Web solution

Out-of-the-box features for:

Service portal

Face-to-face service

One-stop-shop

Appointments

Content management

Form construction

CX centric solution focused on user-experience
"THE FACE" OF YOUR ORGANIZATION – IN A WHITE-LABEL, COST-EFFECTIVE SOLUTION
Customized look & feel

Out-of-the-box features with a modular and customized choice

Catalog organization

Creation of flexible forms

Personalization of messages and contents

Order tracking

GDPR compliant

chatbot for Information search
TECHNOLOGICAL EVOLUTION, RESPONDING TO THE DYNAMISM OF YOUR BUSINESS
Authentication supporting ad, citizen card, mobile digital key, OAuth 2.0, passwordless

Mechanisms to control deadlines and alarms

Process and document management in back-office

Integration with business applications
AN AGILE AND ROBUST ARCHITECTURE IN THE PLUG-IN MODEL
Modular architecture structured with plug-in logic

Micro-services

Micro-frontends

Responsive

Robust security, respecting all market standards
A plug-in solution with immediate impact on the relationships with your customers.
In a post-pandemic world where many customers have used non-face-to-face contact points for the first time, this is the answer you need to accelerate the transformation of your digital channels.
In a short period of time, without high investment costs and focused on customer experience. Don't standstill. Embrace the future of your channels today.

Fast to implement and easy to use.
This is what customers demand from their service providers: availability, speed, and ease. Both in the access and usage.
This is our promise: Your digital channels perform in line with what your customers expect from you.
Say goodbye to taking months to implement and maintain complex solutions with high investment costs.