The administrative modernization that organizations have adopted is based on dematerializing processes and documents and offering remote service channels.
The ability to submit requests online, wherever it is convenient.
The ability to submit requests online, where it's convenient. The ability to pay and see the status of cases. The ability to manage personal information. The ability to start a request on the web and finish it in person or over the phone.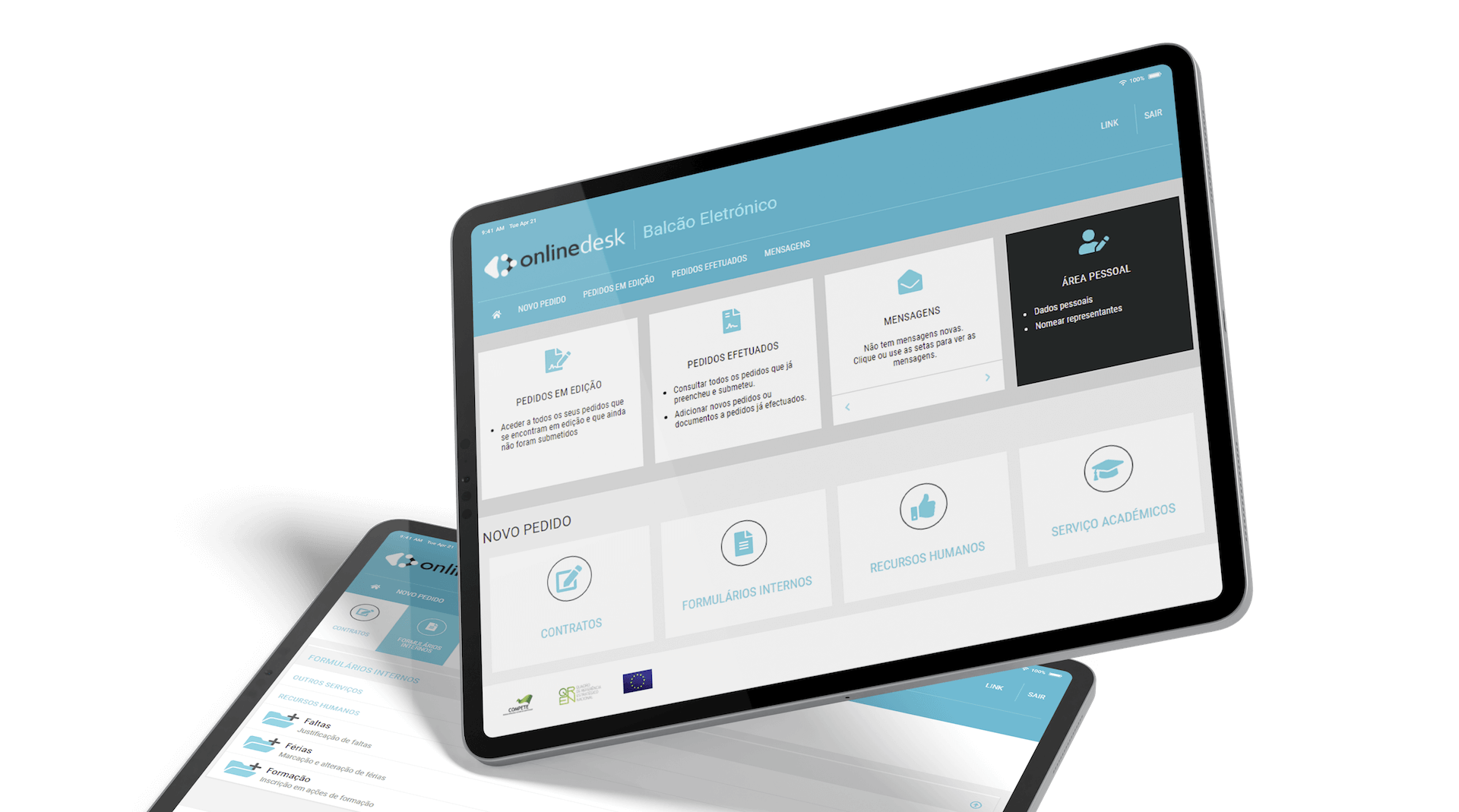 ONLINE AND MOBILE CHANNELS FOR THE NEXT GENERATION
Web solution

Out-of-the-box features for:

Service portal

Face-to-face service

One-stop-shop

Appointments

Content management

Form construction

CX centric solution focused on user-experience
"THE FACE" OF YOUR ORGANIZATION – IN A WHITE-LABEL, COST-EFFECTIVE SOLUTION
Customized look & feel

Out-of-the-box features with a modular and customized choice

Catalog organization

Creation of flexible forms

Personalization of messages and contents

Order tracking

GDPR compliant

chatbot for Information search
TECHNOLOGICAL EVOLUTION, RESPONDING TO THE DYNAMISM OF YOUR BUSINESS
Authentication supporting ad, citizen card, mobile digital key, OAuth 2.0, passwordless

Mechanisms to control deadlines and alarms

Process and document management in back-office

Integration with business applications
AN AGILE AND ROBUST ARCHITECTURE IN THE PLUG-IN MODEL
Modular architecture structured with plug-in logic

Micro-services

Micro-frontends

Responsive

Robust security, respecting all market standards
A plug-in solution with immediate impact on the relationships with your customers.
In a post-pandemic world where many customers have used non-face-to-face contact points for the first time, this is the answer you need to accelerate the transformation of your digital channels.
In a short period of time, without high investment costs and focused on customer experience. Don't standstill. Embrace the future of your channels today.
OnlineDesk
Fast to implement and easy to use.
This is what customers demand from their service providers: availability, speed, and ease. Both in the access and usage.
This is our promise: Your digital channels perform in line with what your customers expect from you.
Say goodbye to taking months to implement and maintain complex solutions with high investment costs.
The agility of your channel solution is reflected in the relationship with your customers and in the agility of your organization.
A modernização administrativa que as organizações têm adotado baseia-se na desmaterialização dos processos e documentos e na oferta de canais de atendimento remotos.
A capacidade de submeter pedidos online, onde for conveniente.
A capacidade de submeter pedidos online, onde for conveniente. De poder pagar e consultar o estado dos processos. De poder gerir a informação pessoal. De poder iniciar um pedido na web e terminá-lo presencialmente ou pelo telefone, sem disrupções.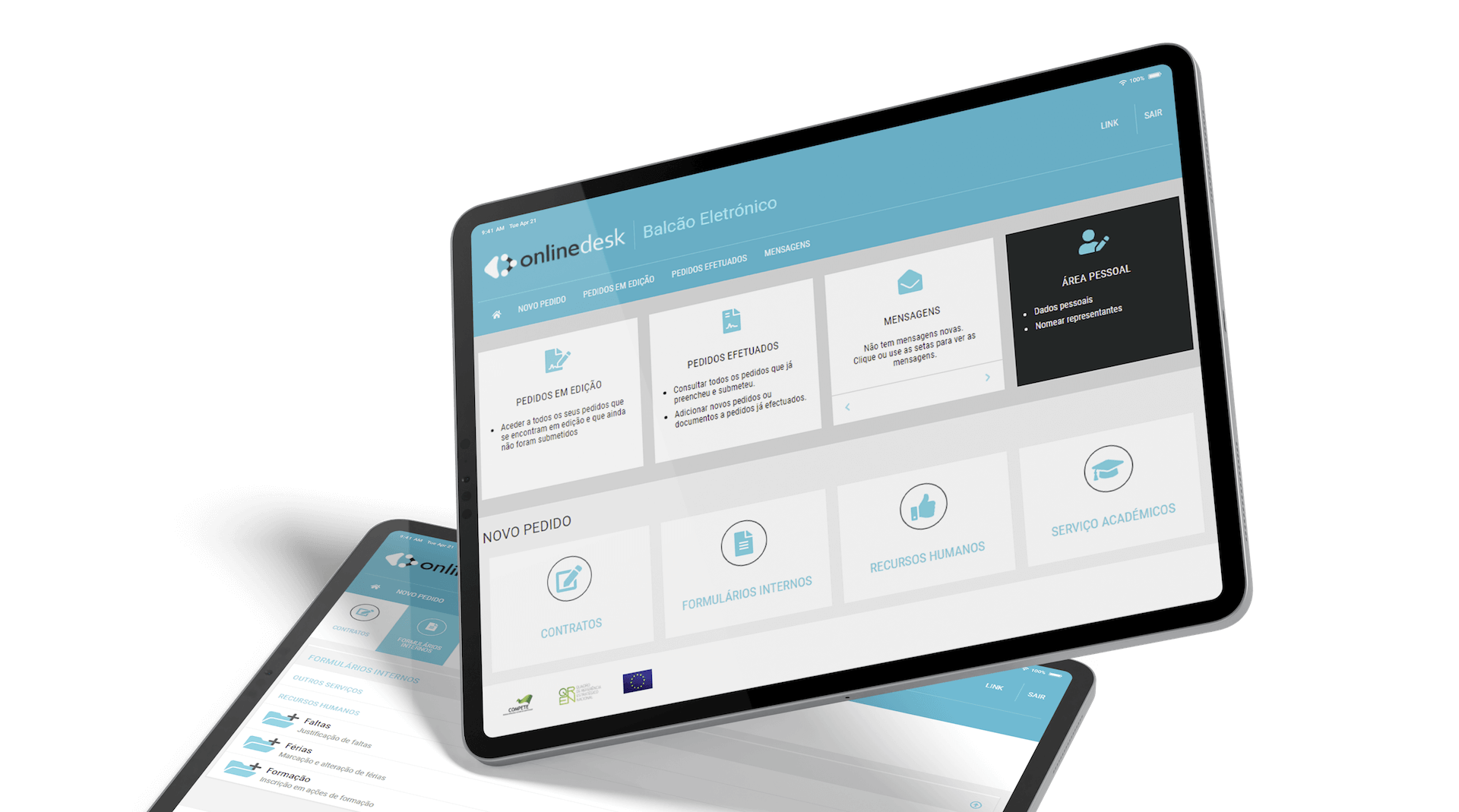 CANAIS ONLINE E MOBILE PARA A PRÓXIMA GERAÇÃO
Solução web

Funcionalidades out-of-the-box para:

Portal de serviços

Atendimento presencial

Balcão único

Agendamentos

Gestão de conteúdos

Construção de formulàrios

Solução CX-centric focada na facilidade de utilização
"A CARA" DA SUA ORGANIZAÇÃO – NUMA SOLUÇÃO WHITE LABEL E COST EFFETIVE
Look & feel personalizado

Funcionalidades out-of-the-box com escolha modular e personalizada

Organização dos catálogos

Criação de formulários flexíveis

Personalização das mensagens e conteúdos

Acompanhamento dos pedidos

Compliance com RGPD

Pesquisa de informação via chatbot
EVOLUÇÃO TECNOLÓGICA, A DAR RESPOSTA AO DINAMISMO DO SEU NEGÓCIO
Autenticação suportando ad, cartão do cidadão, chave móvel digital, OAuth 2.0 , password less

Mecanismos de controlo de prazos e alarmes

Gestão dos processos e documentos em back-office

Integração com aplicações de negócio
UMA ARQUITETURA ÁGIL E ROBUSTA EM MODELO "PLUG-IN"
Arquitetura modular estruturada com uma lógica plug-in

Micro-serviços

Micro-frontends

Responsive

Segurança robusta, respeitando todos os standards de mercado
Uma solução "plug-in" com impacto imediato na relação com os seus clientes.

Num mundo pós-pandemia, em que muitos clientes utilizaram, pela primeira vez, pontos de contacto não presenciais, esta é a resposta que necessita para acelerar a transformação dos seus canais digitais.
Num curto espaço de tempo, sem elevados custos de investimento e centrado na experiência do cliente. Não fique parado. Abrace hoje o futuro dos seus canais.
OnlineDesk
Rápido de implementar e fácil de utilizar.
É isto que os clientes exigem aos seus prestadores de serviços: disponibilidade, rapidez e facilidade. De acesso e de utilização.
É esta a nossa promessa: os seus canais digitais a comportarem-se de acordo com aquilo que os seus clientes esperam de si.
O tempo de demorar meses a implementar e a manter soluções complexas e com elevados custos de investimento, já era.
A agilidade da sua solução de canais reflete-se na relação com os seus clientes e na agilidade da sua organização.