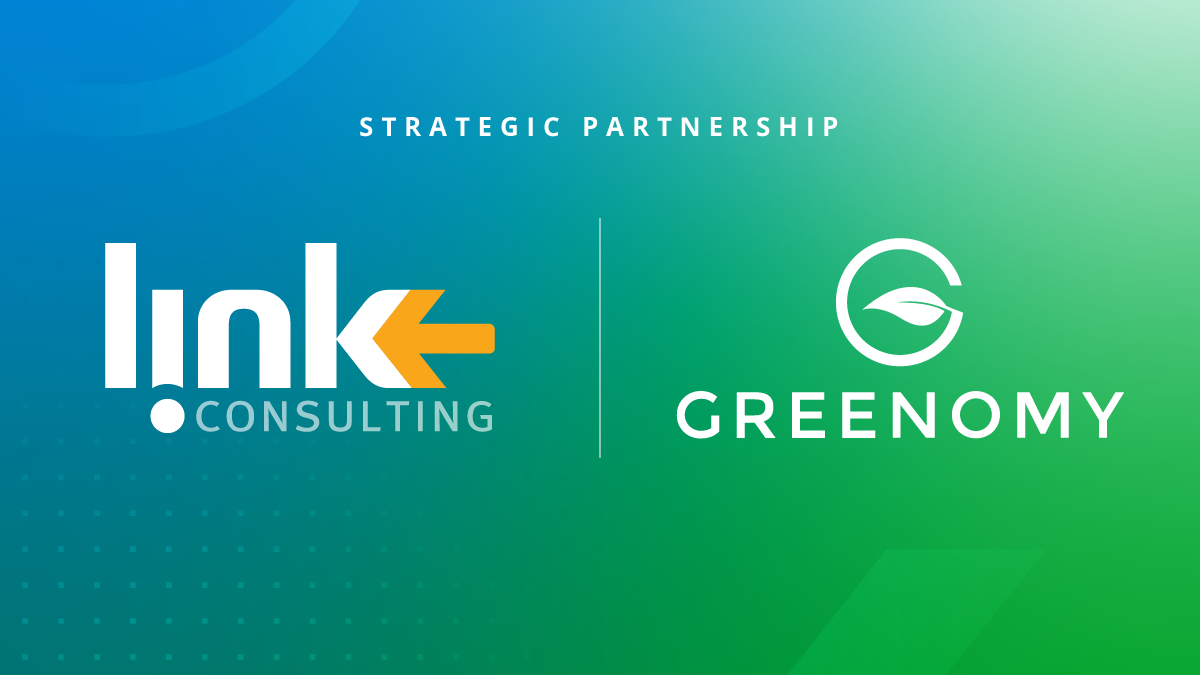 Apr 11, 2023
Link Consulting and Greenomy are committed to accelerate and strengthen the transition to a sustainable economy by providing relevant and reliable information to all stakeholders providing reporting solutions that help companies manage compliance risks and improve ESG* performance.
Link Consulting , a leading information technology consulting company in Portugal and Greenomy, the ESG* market infrastructure, have announced a Partnership agreement. This partnership will focus on providing reporting solutions that help companies manage compliance risks and improve ESG performance and promote sustainable business practices.
With the rise of global concerns such as climate change and social inequality, businesses are under increasing pressure to operate sustainably and responsibly. ESG* has become a key focus area for companies, encompassing environmental impact, social responsibility, and corporate governance. As a result, regulatory bodies worldwide are introducing guidelines and regulations that require companies to report on their ESG performance.
The partnership between Link Consulting and Greenomy enables companies in Portugal to utilize Greenomy's cloud-based infrastructure for automated interactions and coordination among all stakeholders. This ensures that every member of a company's management, every investor, financial services provider, financial advisor, lender, risk management consultant, and all other key stakeholders have access to data that aligns with EU Taxonomy, CSRD, and SFDR standards.
By combining Greenomy's expertise in sustainability with Link Consulting's IT capabilities, the two companies will offer comprehensive solutions that help companies manage their ESG performance and report on their sustainability efforts.
José Alves Marques, CEO of Link Consulting We are excited about this partnership with Greenomy as it strengthens our position in the market as a leading provider of IT solutions for sustainable reporting. Together, we can provide comprehensive solutions that help companies meet their regulatory obligations and promote sustainable practices.
Alexander Stevens, CEO at Greenomy, about the partnership with Link Consulting: "Greenomy is thrilled about its partnership with Link Consulting, which will allow Portuguese corporations and financial institutions to connect to our ESG* Market Infrastructure. The combination of Greenomy's technology and Link Consulting's expertise will enable them to manage their sustainability reporting, mitigate climate risks and develop more sustainable business strategies."
*ESG Environmental Social Governance
About Link Consulting
Link is a complete Information Technology Provider with solid engineering skills, allowing the creation of adequate solutions to our customers' specific challenges and needs.
WE DEVELOP our Products and Solutions
WE CREATE methodologies and Services that align IT and Business
WE MASTER the most relevant IT Technologies
www.linkconsulting.com
For media inquiries, please contact Amanda Mourão amanda.mourao@linkconsulting.com
About a Greenomy
Greenomy is an ESG market infrastructure providing SaaS solutions to companies, credit institutions and asset managers to comply with the new EU Sustainable Finance Regulations (EU Taxonomy, SFDR, CSRD). By digitalizing the data capturing and reporting process, the Greenomy solution establishes an all-encompassing sustainability data and analytics ecosystem that connects stakeholders and facilitates the redirection of funds towards sustainable projects in line with the EU Green Deal. Greenomy is gradually integrating foreign Green Taxonomies to offer stakeholders a one-stop solution for their global operations. Greenomy won the SWIFT first prize for Sustainability at SIBOS.
For more information about Greenomy, visit www.greenomy.io
For media inquiries, please contact Annemarie McCurrach at annemarie@greenomy.io

Related posts