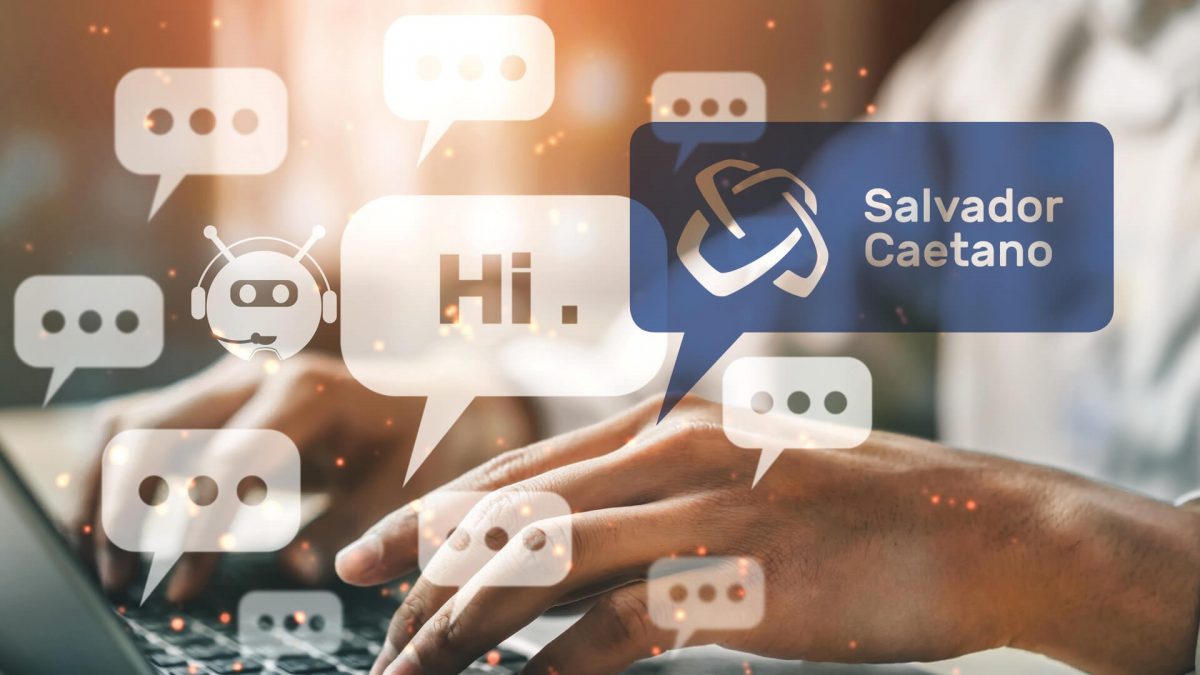 The 5th edition of IDC Portugal Digital Awards received 350 submissions from some of the largest companies in Portugal, covering all sectors of the economy.
IDC Portugal Digital Awards are intended to reward the best digital transformation projects of national organizations, as a showcase of the most successful achievements in the Digital domain in Portugal.
Of the many innovative projects that were in competition for the award, there is a particular one that is reason of great pride for us at Link Consulting – the "Elsa" initiative, of Grupo Salvador Caetano.
"Elsa" won the Digital Transformation Award for 𝗕𝗲𝘀𝘁 𝗙𝘂𝘁𝘂𝗿𝗲 𝗼𝗳 𝗖𝘂𝘀𝘁𝗼𝗺𝗲𝗿 & 𝗖𝗼𝗻𝘀𝘂𝗺𝗲𝗿𝘀 𝗣𝗿𝗼𝗷𝗲𝗰𝘁 2020.
Salvador Caetano Group and Link Consulting started this innovating initiative in 2018 -100% Cloud Native on Google Cloud Platform – with the clear goal of seamlessly transforming the relationship of customers and employees with Salvador Caetano.
Our congratulations to Salvador Caetano Group for the initiative and the award.
For more information about this project, visit this link, or you can also schedule a 30 minutes meeting with us, where we will be pleased to explain you everything about this initiative, and how we can also help your organization innovating in customer relationships.
The Project
Supported by innovating channels, Link Consulting and Salvador Caetano Group are developing a Total Experience initiative [Gartner Top Strategic Technology Trends for 2021] with the purpose of boosting and bringing customers, employees and partners closer to Salvador Caetano's universe.
Showing an innovative vision, this initiative, affectionately called "Elsa", is comprised of several projects which address the creation of chatbots both for customers and employees of the more than 170 companies of Salvador Caetano Group.  Developing an automated chat management platform, fully integrated with the Contact Center, and the adoption of voice and emotions analysis in a set of customer service use cases.
Furthermore, voice has a natural role in this domain, connecting with the hands-free devices and apps found in automobiles, which allow the client to interact with the Group's chatbots without any sort of manual interaction.
This project is running 100% on Google Cloud Platform, leveraging AI and Machine Learning services offered by Google.
Hyundai's virtual assistant, "Clara", is one of the clear examples of this initiative, while the portion known to the public – the chat widget on Hyundai's website [hyundai.pt] – is just a small piece of the project.
The "magic" is behind it, in the Salvador Caetano Group's automated chat management platform which allows the follow-up of each client and interaction, helping them when necessary.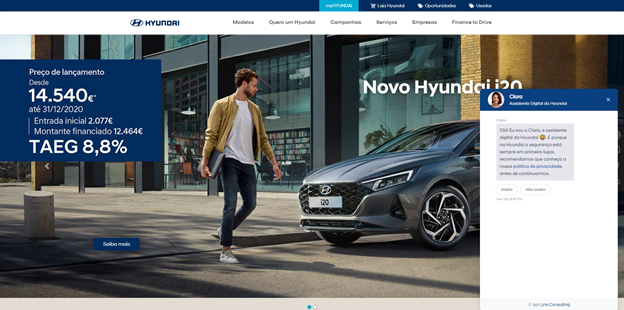 The program focused on two major areas: the industrialization of the chatbots and the creation of a centralized management interface for operating chatbots, connected to the Group's Contact Center.
Therefore, it is now possible to create an instance for a new chatbot in record time, with all the associated controls and monitoring, and with the ability to interact with the Contact Center agents.
Since chatbots are based on a common framework, improvements and new features are automatically made available to all chatbots in the group, leaving them the decision of whether or not to create an instance of these improvements and features.
Thanks to careful software and cloud engineering, the more than 70 projects of the initiative can be processed with operating costs completely marginal. A traditional architecture would have a cost at least 8 times higher.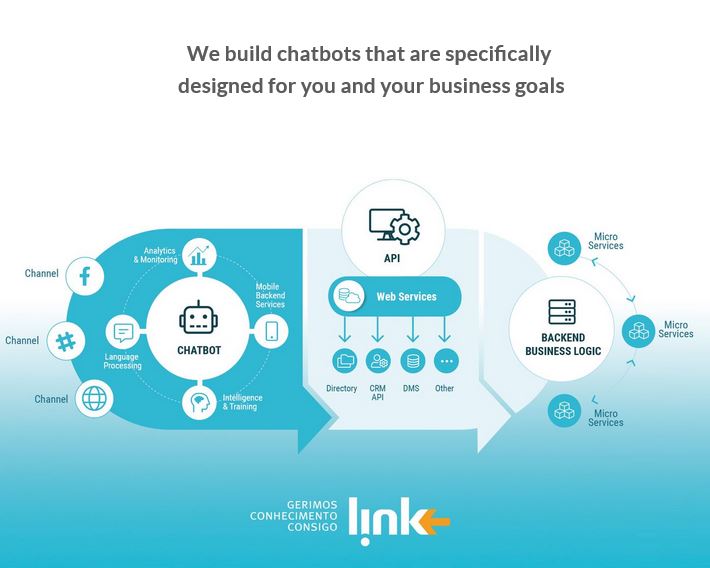 Selecting Google Cloud Platform (GCP) was fairly easy. Dialogflow is one of the best chatbot platforms in the market, with fantastic NLU and NLP which are updated with improvements and more features almost monthly.
In addition, as it is easily understood, NLU and NLP engines need data to train the natural language models linked to chatbots and voice. And no one has more written data – in any language – than Google. This means that more conversations are correctly understood and answered.
In addition to Dialogflow, the Natural Language Processing, Voice Synthesis and Text Synthesis APIs are other AI and Machine Learning features also in use.
The solution is also using serverless computing services which, combined with a careful architecture, offers operating costs 8 to 15 times lower than in a traditional VM-based architecture.
Link Consulting has a team dedicated to innovative channels – such as chatbots and voice – composed of engineers with extensive experience in this domain. Several years of work in this area allowed us to establish a development framework, which greatly accelerates the implementation and scaling of these initiatives.
Related posts